A Donald Trump supporter who bear-sprayed at least eight police officers during the US Capitol riots has been jailed for three years.
Edward Rodriguez was identified by members of the so-called Sedition Hunters – an online community of investigators helping the FBI and police find people who allegedly committed crimes during the riots on 6 January 2021.
The group, which examines thousands of hours of video and hundreds of images to search for people wanted by the FBI, had referred to Rodriguez as "#SuitMacer" because he was wearing a suit as he assaulted officers with what turned out to be bear spray.
He was also wearing a baseball cap with "Trump" written across it.
Rodriguez was arrested in 2021 and pleaded guilty in March this year.
Prosecutors had sought more than seven years in prison for him. However, Judge Dabney L. Friedrich referenced Rodriguez's mental health needs as she handed a sentence of three years.
The judge said convicting Rodriguez was "truly one of the hardest January 6th sentencings I've had" and alluded to some of the material that was disclosed only in a sealed proceeding. She said Rodriguez needed "continued mental health treatment" but that a period of imprisonment was necessary for general deterrence.
Rodriguez, from Brooklyn in New York, was 28 and working as a real estate agent when he joined rioters during the insurrection.
The judge said Rodriguez was "easily manipulated" and believed it was his duty to come to Washington DC on the day of the riots.
Ms Friedrich added that the defendant had thought the dozens of email messages he received from the Trump campaign and its affiliates about 6 January 2021 were personal invitations rather than mass mailings.
Rodriguez said he was not in a good place at the time of the attack on the Capitol and that he was "spending too much time reading crazy stuff online" and became "disconnected from reality".
He apologised before the sentence was imposed. "I deeply regret my actions on January 6th," he said, adding he now realised that officers were using pepper-spray themselves because of how "crazy and chaotic the crowd had gotten".
He said he was "embarrassed" and "deeply regretful" about his actions.
According to prosecutors, Rodriguez typed "What does bear spray do to humans?" into Google after the attack.
Read more:
Storming the Capitol: How four hours of mayhem unfolded
Former Proud Boys leader jailed for 22 years over January 6 plot
US Capitol rioter pictured with his feet on Pelosi's desk is jailed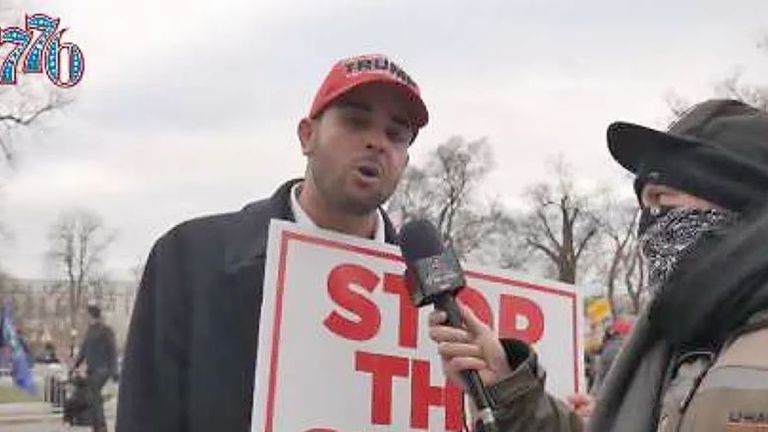 The US government identified at least eight officers who were injured in his spray attack. The justice department often identifies victims of the Capitol riots by their initials and has referred to the eight officers as – Sergeant O.A., Officer M.B., Officer N.D., Officer P.N., Officer B.R., former Officer J.R., Sergeant A.W and Officer A.Z.
Marina Bronstein was one of several of the police officers sprayed by Rodriguez who appeared in court on Monday.
Before the courtroom was sealed, Rodriguez communicated that he wanted to apologise to the officers.
Ms Bronstein was the only one who took him up on it.
"I'm very sorry for what I did," Rodriguez said in an almost empty courtroom.
Ms Bronstein replied that she had nightmares and post-traumatic stress disorder from what happened to her during the attack.
"I don't forget," she said. "I do forgive you, but it doesn't change what happened.
What happened during the US Capitol riots?
The insurrection took place two months after Mr Trump was defeated in the 2020 presidential election.
His supporters rioted outside, and some entered, the United States Capitol Building in Washington DC.
The mob sought to keep Mr Trump in power by preventing a joint session of Congress from counting the Electoral College votes to formalise the victory of president-elect Joe Biden.
Five police officers died and 140 were seriously injured in the violence.