Donald Trump said a former member of his legal team who pleaded guilty to criminal charges in an election interference case was "never" his attorney.
The ex-US president put distance between himself and Sidney Powell online after she admitted six misdemeanour counts over attempts to overturn the 2020 election results in Georgia.
Speaking on Truth Social, Mr Trump repeated false claims the election was rigged and said: "Sidney Powell was one of millions and millions of people who thought, and in ever increasing numbers still think, correctly, that the 2020 Presidential Election was rigged & stollen (sic), and our country is being absolutely destroyed because of it!!!
"Ms Powell was not my attorney, and never was. In fact, she would have been conflicted."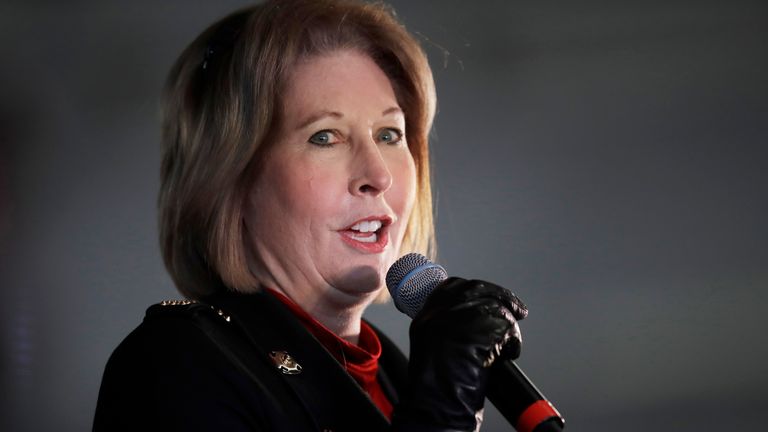 Ms Powell, 68, pleaded guilty to six misdemeanour counts of conspiracy to commit election interference in Fulton County Superior Court last week.
As part of a plea deal, she will serve six years of probation and was fined $6,000 (£5,000).
She will also have to submit an apology letter to the citizens of Georgia and agreed to testify at related court proceedings, which could include Mr Trump's case.
Ms Powell was originally charged with seven felony charges, including racketeering, conspiracy to commit election fraud, conspiracy to commit computer theft, trespassing and invasion of privacy, and conspiracy to defraud the state.
She was accused of being involved in a scheme to unlawfully breach election equipment in Coffee County, Georgia, and tamper with voting machines.
On 15 November 2020, Mr Trump announced he "added" Ms Powell to his "truly great team" of lawyers working on the election, which he lost to Joe Biden.
Read more:
Trump fined $5,000 for 'disparaging' claim about court clerk
Trump returns to court for $250m 'rigged' fraud trial
Trump sues former British spy
Ms Powell took part in a news conference along with lawyers Rudy Giuliani and Jenna Ellis four days later, where she claimed without evidence that the software used in the election was created in Venezuela "at the direction of Hugo Chavez" – who died in 2013.
She also vowed to "blow up" Georgia with a "biblical" lawsuit. The Trump campaign dropped her from the legal team on 23 November 2020.
Mr Giuliani and Ms Ellis said at the time: "Sidney Powell is practicing law on her own.
"She is not a member of the Trump legal team. She is also not a lawyer for the president in his personal capacity."
Ms Powell later met with Mr Trump at the White House in December 2020, where the former president discussed naming her as special counsel, according to an indictment.