Celebrated Nobel-winning poet Louise Gluck has died aged 80, her editor has confirmed.
Her death was confirmed on Friday by Jonathan Galassi, her editor at Farrar, Straus & Giroux.
According to her publisher, the US poet and Pulitzer Prize-winner died of cancer at her home in Cambridge, Massachusetts.
In a career spanning more than 60 years, Gluck became one of the most critically acclaimed poets and essayists in modern America.
She was awarded the Nobel Prize in Literature in 2020, becoming the first American poet to be honoured with the prestigious literary prize since TS Eliot in 1948.
Gluck was known for her candour in exploring family and childhood throughout her work.
When awarding her the Nobel, the Swedish Academy, which is responsible for selecting the literature prize winner, said her poetry had an "unmistakable voice" and "austere beauty".
Alongside the Nobel Prize, the US poet was awarded Pulitzer Prize for her poetry collection The Wild Iris in 1993 and served as Poet Laureate of the United States in 2003-2004.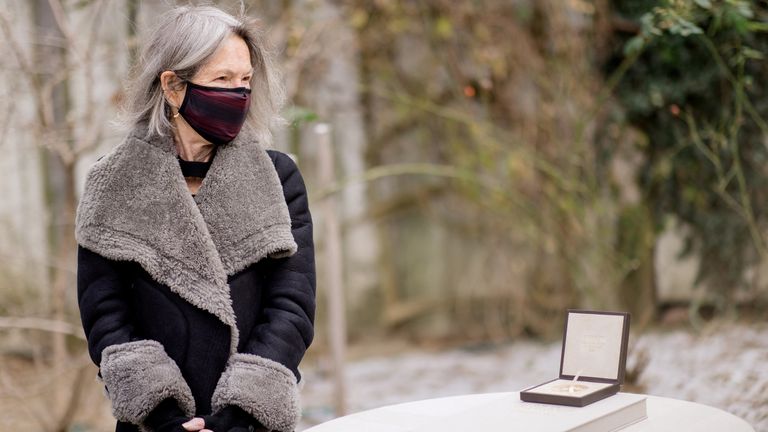 Poet Tracy K Smith, also a Pulitzer winner, said in a statement that Gluck's poetry had "saved" her many times.
Gluck was awarded the National Humanities Medal by President Barack Obama in 2015 for her "decades of powerful lyric poetry that defies all attempts to label it definitively".
Throughout her career she published more than a dozen books of poetry, as well several volumes of essays and the brief prose fable, Marigold And Rose.
She also taught at a number of prestigious universities including Stanford and Yale.
Gluck was married and divorced twice and had a son, Noah.