A rare solar eclipse will sweep across the US later today, with a spectacular phenomenon known as the "ring of fire" due to stun stargazers.
The "ring of fire" annular solar eclipse will be on show in a number of US states as well as parts of Central and South America.
Unlike in a total solar eclipse, the moon will not completely cover the sun. Instead, the moon only partially obscures the sun leaving a blazing, fiery ring around it.
Millions will be treated to the rare astronomical event, starting in the US on Saturday morning local time.
The states of Oregon, Nevada, Utah, New Mexico and Texas will all be in its path.
It will also be on show in parts of California, Arizona and Colorado before passing through Mexico, Belize, Honduras, Nicaragua, Costa Rica, Panama, Colombia and Brazil.
Much of the rest of the Western Hemisphere gets a partial eclipse.
The "ring of fire" promises to wow eclipse enthusiasts – provided the weather holds up, with cloud covering possible in part of the US path.
Read more on Sky News:
'Mind-blowing' rare solar eclipse wows in Australia
'A bite out of the sun': Partial eclipse in pictures
With a chance of rain, the small town of Reedsport near Oregon's Pacific Coast has had to move its planned eclipse festival indoors.
"But we're still hoping that we might get a glimpse of it," said city official Rosa Solano.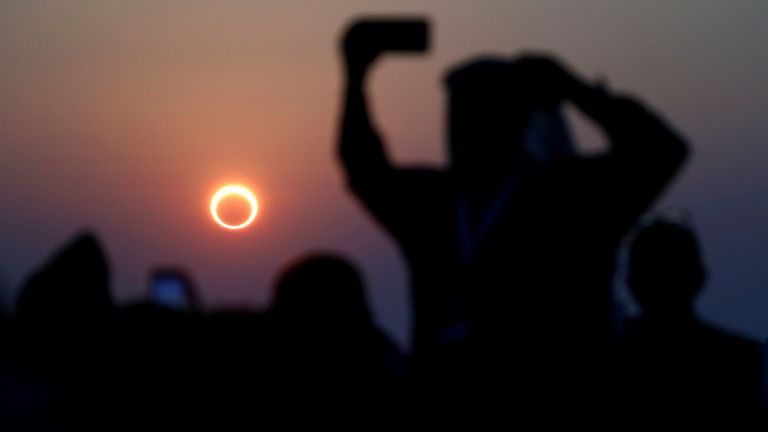 NASA, which is livestreaming the annular eclipse, has warned eclipse-watchers not to look at the event without proper precautions.
It says people will need to use specialised solar filters or an indirect viewing method to safely watch the event.
The duration of the eclipse – from the moment the moon starts to cross in front of the sun until it is back to normal – is up to three hours at any given location.
Depending on where it is being viewed, the ring of fire portion will last from three to five minutes.