Simone Biles has become the most decorated gymnast in history after sealing her sixth career world all-around title in Antwerp.
The 26-year-old's appearance at the 2023 World Artistic Gymnastics Championships marks her return to major international competition after she took a two-year break to focus on her mental health.
The American gymnast led her team to a record seventh straight title on Wednesday.
Her golden comeback continued in record-breaking style as she finished with a top score of 58.399 on Friday, 1.633 points above Brazilian silver medallist Rebeca Andrade with compatriot Shilese Jones rounding out the top three.
The medal was Biles' 34th at an Olympics or World Championship – the most achieved by a male or female gymnast in the history of the sport after surpassing the 33 achieved by Belarusian Vitaly Scherbo.
Her historic gold came precisely 10 years – and in the exact same venue – as her first world all-around title in 2013 and she appeared to be welling up when the American national anthem played.
Biles told Sky's US partner network NBC News: "I was emotional because it was my first worlds here 10 years ago, and then now my sixth one, so it is crazy.
"But I swear, I do have something in my eye that's been bothering me for like four hours, and I cannot get it out. So while I was looking up there, it was like a combination of both."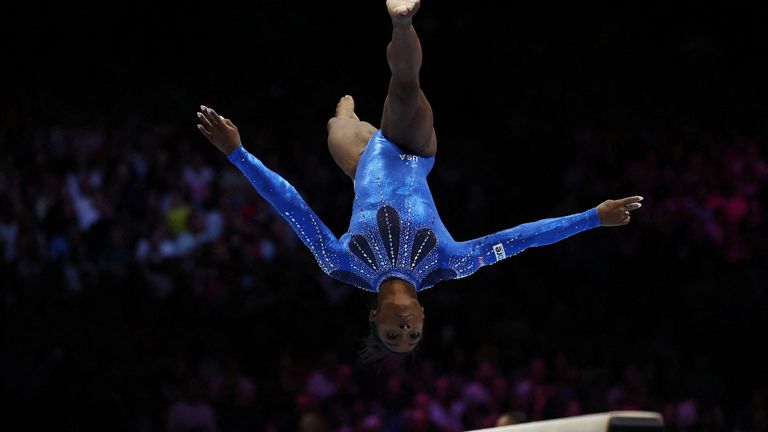 Biles could still add more medals to her collection with the individual apparatus finals still to come on Saturday and Sunday – Biles has qualified for all four.
The gymnast earlier became the first woman in history to land a Yurchenko double pike vault after performing the move at the championships in Antwerp on Monday.
Yurchenko vaults involve landing on the horse or vaulting platform facing forwards and the double pike is regarded as the most difficult of the manoeuvres.
The vault will now be named Biles II after a different original jump was named after her in 2018.
Read more:
Biles criticises young black gymnast being denied medal
Biles wins record eighth title at US Gymnastics Championships
Drama for British gymnasts in Antwerp
Meanwhile, Great Britain gymnast Jessica Gadirova, the 2022 world floor champion, dropped out of the competition at the last minute on Friday.
British Gymnastics announcing the decision in a post on X, formerly known as Twitter, which read: "Update. As a precautionary measure Jessica Gadirova will not be competing in tonight's all-around World final, Alice Kinsella will now compete in her place for Great Britain."
Kinsella ultimately finished seventh with a score of 54.032, while teammate Ondine Achampong placed 13th in her first world all-around final.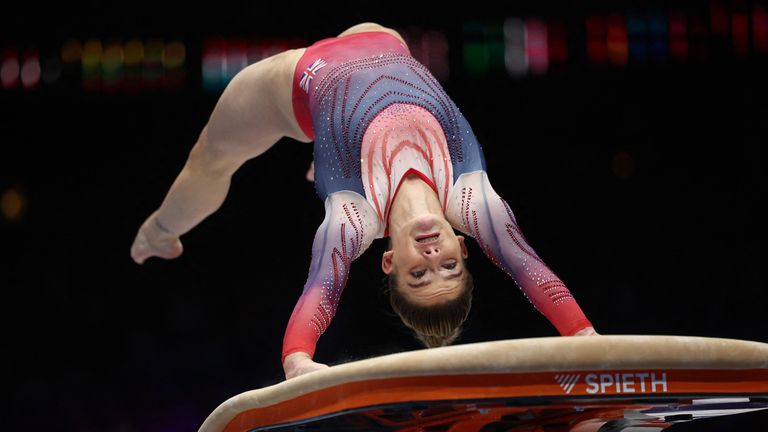 Kinsella, the 2023 British national all-around champion, admitted the dramatic call-up came as a shock.
She told the BBC: "I only went (out) to do little bits and bobs like stretching, conditioning, and then I went off to get my foot rubbed, then my coach came over and was like, 'Alice, you need to get your leotard on straight away'.
"I was a bit stressed, I didn't really know what to do or say to anyone. I just ran to the toilet, shoved it on, and that was it really."