A 74-year-old great-grandfather suffered multiple injuries, including a spinal fracture, after he was shoved onto New York City subway tracks earlier this week — and the suspect, following his Thursday arrest, was heard saying the victim "called me a woman."
What are the details?
The victim, who works at a parking garage on Fifth Avenue, was on the 6 train platform in the 68th Street-Hunter College station when the shove took place after midnight Tuesday, WABC-TV reported. No train was coming at the time, and an MTA employee helped the victim off the tracks, the station said, adding that the suspect fled the scene.
The victim landed on his back and neck, WABC said, adding that doctors determined he suffered multiple rib and pelvic injuries, as well as a spinal fracture.
His family said the father of three who also has five grandchildren and three great-grandchildren was shoved so hard there was a handprint on his chest, the station added.
Police said surveillance images helped lead to the suspect's arrest, WNBC-TV reported, adding that patrol officers in midtown collared him after recognizing him from the wanted flier.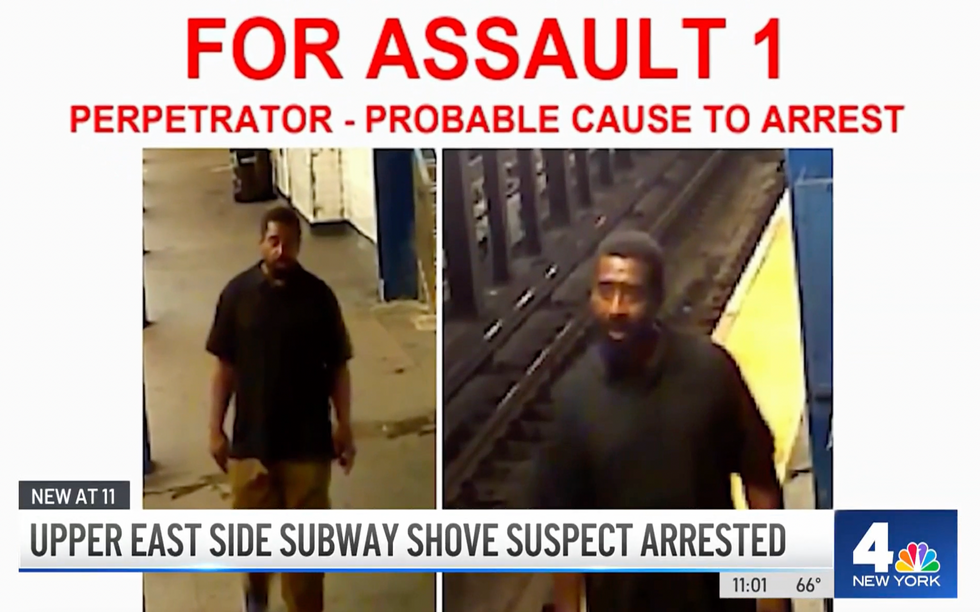 Image source: WNBC-TV video screenshot
Derrick Mills, 49, was charged with assault, WABC reported, adding that authorities said Mills has one prior arrest for an assault in Brooklyn in 2000.
Anything else?
There are apparent conflicting reports regarding the motive behind the shove.
WNBC reported that Mills, after his arrest, could be heard saying he pushed the victim because "he called me a woman." WABC said the suspect accused the victim of staring at him before the shove.
The victim's granddaughter told WABC in an earlier story that her grandfather is a feisty man who never looks for trouble — and that the perpetrator's "day is coming."
"You don't just go around hurting people, we're all human beings, we're all supposed to take care of each other just like the animals take care of each other," Karry-Ann Martin told the station. "You watch the pride, the lion pride, everybody has their job, everybody is different, different race, different color, but that's what makes us special. You hurt an elder … I hope the police catch up with him, that's all I have to say."
NYC Transit President Richard Davey told WABC that "we've said over and over that if you commit a crime in the New York City subway system, your picture will be taken, the NYPD will find you, and we will press for maximum prosecution. This was a disgusting incident that understandably unsettled riders, and we appreciate the rapid arrest that was assisted by a New Yorker who saw a photo of the perpetrator that was taken by a station platform camera."
Like Blaze News? Bypass the censors, sign up for our newsletters, and get stories like this direct to your inbox. Sign up here!