Donald Trump – who is seeking re-election in 2024 – has been charged with plotting to overturn his 2020 election defeat to US President Joe Biden.
How will Mr Trump counter the accusations – and what can we expect as the case moves forward?
The charges
Mr Trump faces three charges of conspiracy – one to defraud the United States, another to obstruct the January 6th certification of an official government proceeding and a third against the peoples' right to vote and have that vote counted. A fourth charge relates to the obstruction of an official proceeding.
The 77-year-old denies any wrongdoing.
His campaign has called the latest allegations over the Washington DC insurrection – the third time in four months he has been criminally charged – "nothing more than the latest chapter" in what it described as a politically motivated "witch hunt".
Prosecutors say Mr Trump pushed unproven fraud claims he knew were untrue, pressured state and federal officials – including Vice President Mike Pence – to alter the results and finally incited the Capitol assault in a bid to undermine US democracy and cling to power.
'Trump's lies fuelled Capitol riot'

What will be Trump's first line of defence?
Mr Trump's legal team is characterising his 45-page indictment in the special counsel's 2020 election interference investigation as an attack on the former president's right to free speech.
His lawyers plan to argue he had a right under the First Amendment of the US Constitution to overturn the result.
Hours after the charges were revealed, Mr Trump's attorney John Lauro accused the Justice Department of having "criminalised" the First Amendment – and asserted his client had relied on the advice of attorneys around him in 2020.
"What President Trump had was an actual opinion of counsel that his request to Vice President Pence was completely lawful and completely constitutional," he told NBC's Today Show.
"You're entitled to believe and trust advice of counsel," he said.
"You had one of the leading constitutional scholars in the US, John Eastman, say to President Trump, 'This is a protocol that you can follow, it's legal'."
"That eliminates criminal intent," Mr Lauro said, adding everything Mr Trump did "was to get at the truth".
The key question in latest Trump case

What does the First Amendment protect?
The First Amendment does indeed give wide berth for all manner of speech, and it's well established that lying to the public isn't itself a crime.
Special counsel Jack Smith and his team appear to have anticipated the First Amendment line of defence, conceding head-on in their indictment Mr Trump had the right to falsely claim that fraud had cost him the election and to legally challenge the results.
But they also said his conduct and that of his "co-conspirators" he's alleged to have plotted with – who have not been named as they have not been charged with any crimes – went far beyond speech.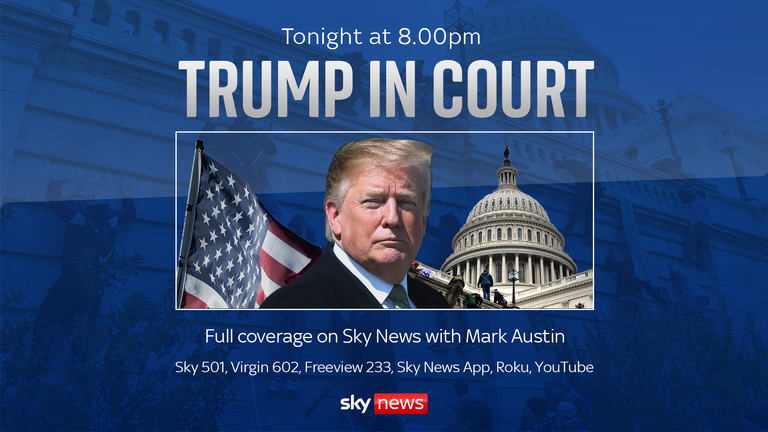 What do the experts say?
Experts say there's little legal merit to the First Amendment claims, particularly given the breadth of steps taken by the ex-president and his allies which prosecutors say transformed mere speech into action in a failed bid to undo the election.
Those efforts, the indictment says, amounted to a disruption of a "bedrock function of the United States federal government: the nation's process of collecting, counting, and certifying the results of the presidential election".
"Saying a statement in isolation is one thing. But when you say it to another person and the two of you speak in a way and exchange information in a way that leads to action – that you want to take action to do something with that speech – then arguably it becomes unprotected," said Mary Anne Franks, a law professor at George Washington University.
'Trump believed his lies'
Mr Trump's legal team has also suggested his defence may at least partly focus on the idea that he was acting in good faith because he genuinely believed his bogus election fraud claims.
But the indictment is careful to show how Mr Trump was repeatedly warned by people close to him that there was no truth to his claims.
Some of the comments detailed in the indictment suggest Mr Trump knew he had lost and that his actions were wrong.
Days before the riot he told Mr Pence he was "too honest" after the vice president said he didn't have the authority to reject electoral votes, the indictment says.
"I can imagine that prosecutors will use that line over and over and over in the trial, in their opening statement and closing argument, to show that he really didn't believe the things he was saying," said Brandon Fox, a former federal prosecutor who now works as a defence attorney.
Mr Pence has spoken extensively about Mr Trump urging him to reject President Biden's election victory in the days leading up to the deadly attack.
"President Trump is wrong. I had no right to overturn the election," Mr Pence, who has often shied away from confronting his former boss, said in March.
"And his reckless words endangered my family and everyone at the Capitol that day, and I know history will hold Donald Trump accountable."
Read more:
The case against Donald Trump
Of all the charges Trump faces, these are the most serious
Witnesses
Mr Pence – who is among those challenging Mr Trump for the 2024 Republican presidential nomination – could be a star witness in the trial, and Mr Lauro has said he expects him to testify.
"We expect that he will be a witness, but what he has said consistently is that he never thought that the president acted criminally," he told CBS Mornings.
"Mr Pence is a lawyer. Not once did he say, 'Mr Trump, what you're asking me is criminal, don't do that'."
Another challenge for Mr Trump's defence is many of the witnesses he would want to call to the stand to say they told him there was election fraud are co-conspirators who will likely be reluctant to testify.
"Typically in federal prosecutions, those unnamed co-conspirators are not that thrilled about testifying for the defence because they are worried about being charged in the future," Mr Fox said.
Speedy trial?
Mr Smith said he would pursue a speedy trial, in his remarks after he detailed the charges against Mr Trump.
However, Mr Lauro has suggested he will seek to push the trial back to a later date and
"This is going to be one of the biggest cases in the history of the United States," he told NPR, adding his legal team wants "enough time to study the documents, be able to interview witnesses and look at the evidence in its totality".
Mr Lauro has called the potential timeline "absurd", telling NBC's Today programme Mr Smith "had three and a half years [to investigate]".
"Why don't we make it equal?"