About 14 separate families or groups of illegal immigrants boarded a flight Thursday at McAllen International Airport in Texas, the man in charge of border security during the Trump administration told The Daily Signal.
Mark Morgan, former commissioner of U.S. Customs and Border Protection, said he saw the illegal immigrants board the American Airlines flight just after 3 p.m. CDT at the airport of the border town.
"By the eighth or ninth family is when I decided to take pictures," Morgan, who was aboard the same flight, told The Daily Signal on Friday. "I decided to take a video when I saw a large family with an infant child."
Morgan currently is a visiting fellow in national security at The Heritage Foundation, the parent organization of The Daily Signal. 
When he witnessed the immigrants boarding the airliner bound for connecting flights at Dallas-Fort Worth, Morgan was traveling with Thomas Homan, acting director of U.S. Immigration and Customs Enforcement during the Trump administration. 
Although the migrant families or groups didn't appear to have identification, each held travel documents inside manila envelopes with their flight times and final destination. 
That's a marked difference from U.S. citizens when they board a plane, Morgan said.
The packets held by the migrants bore the words: "PLEASE HELP ME. I DO NOT SPEAK ENGLISH."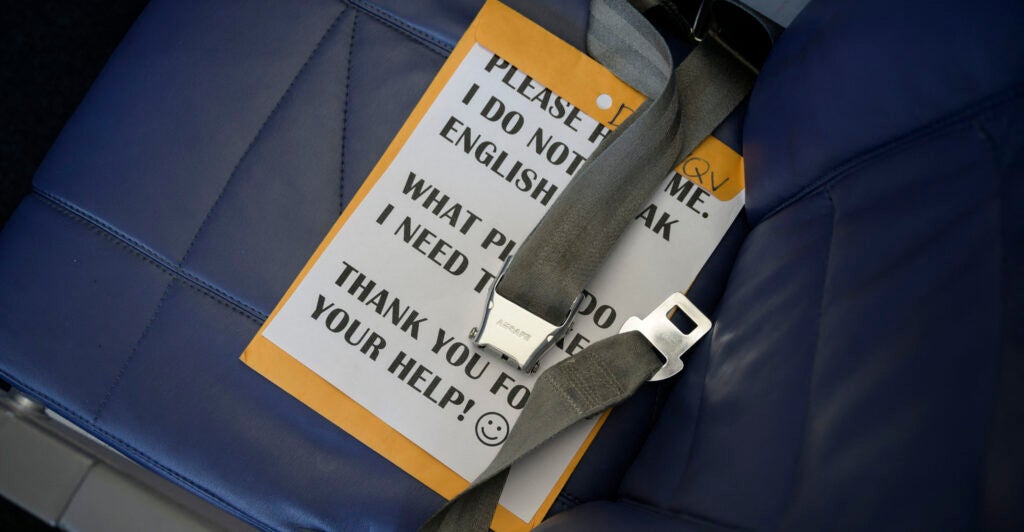 At least one migrant boy boarding the flight held a smartphone, video shows. It is not clear whether the migrants were tested for COVID-19.
The incident witnessed by Morgan is another sign of the border crisis that has consumed much of President Joe Biden's first 100 days in office. It is not clear how many such flights carrying how many illegal immigrants have flown out of McAllen and other border cities since Biden took office Jan. 20, where the migrants went, or how much it cost.
The new administration reversed most of the border security policies of the Trump administration through executive order–halting deportations and stopping construction of the border wall, among other measures.
The Washington Post reported that more than 100,000 individuals tried to cross the southern border illegally in February. In March, that number increased to about 172,000, the highest monthly total in nearly two decades. 
In November 2020, when Biden was elected, federal agents had caught about 69,000 illegal immigrants at the border. 
In the same period a year ago, the number of migrants arrested at the border between November 2019 and March 2020 decreased from 42,000 to about 33,000, according to government dat.
The Biden administration also is holding more than 21,000 unaccompanied minors in federal custody after they tried to cross the border.
Illegal immigrants, interviewed in recent news accounts, said they crossed the U.S.-Mexico border anticipating more accommodating policies from the new president. 
Such flights occurred under previous administrations, including during the border surge in 2019, Morgan said. But the Trump administration worked to end the practice, he said. 
"We had all the tools in place," Morgan told The Daily Signal. "Now it's worse than we've ever had. During the Trump administration, we did everything we could to stop this. The current administration is trying to better facilitate and prepare [illegal immigrants] for release."
Historically, many illegal immigrants who are released into the country don't face a hearing in immigration court for months or years.  Critics such as Morgan say that flying them across the country will make it likely that these migrants will remain here illegally. 
"These aren't detention centers [at the border]. They are welcome centers where they are given free clothes, free health care, and free plane tickets, so they will be flying all over the U.S. and never be heard from again," Morgan said.
Morgan added that private detention centers with bed space paid for by taxpayers now sit empty.
"This is both an ideology and a political strategy," Morgan said of the Biden administration's actions. "They don't want detention." 
The flight that Morgan saw the migrant families board, and others like it, would have to be facilitated by the Biden administration. This would require a waiver from the Transportation Security Administration of the requirement to show ID, Morgan said. 
And the families' transportation costs would have been covered by taxpayers, who are expected to obey the nation's rules and laws in their own travels, he noted.
Driven by the new border crisis, Customs and Border Protection facilities have released some families to nongovernmental organizations and coordinated efforts to transport them, Morgan said. These NGOs receive federal, state, and private funding. 
"In fiscal year 2020, the Trump administration released less than 1,000 individuals [caught at the border], and we were addressing loopholes," he said. "Fast forward to President Biden, and he systematically removed those policies."
Destinations for families of illegal immigrants vary, Morgan said. 
"They go anywhere they want to go. A family comes in and, in some cases, mothers are bringing children when the father has already entered the country illegally," Morgan said. "They go wherever the work is. Illegal aliens get to choose. The NGOs typically ask where they would like to go." 
Neither the Department of Homeland Security nor the Transportation Security Administration immediately responded to The Daily Signal's inquiries about what Morgan saw at the Texas airport. The White House also did not respond to inquiries.
American Airlines handles all flights paid for by the federal government similarly, spokeswoman Stacy Day told The Daily Signal. Day, however, could not provide an estimated cost. 
Day said in an email statement:
All passengers traveling domestically are cleared by TSA. American, like all U.S. airlines, provides travel to the federal government through our Government Services Agreements; however, the government does not disclose information about the nature of the flights they take or the passengers who are traveling. There isn't a similar program for NGOs; they can book travel as any other customer. We'll refer you to the relevant U.S. agencies for any additional information.
Fewer than 20% of illegal immigrants that encounter Customs and Border Protection agents have a credible claim that they fear conditions in their home country, according to government data.
TSA's waiver of the requirement to show identification is a security risk, Morgan said. 
"I have been in service to the country for 35 years. I had to show ID twice and unpack my bag [at the same airport]," Morgan said. 
"They didn't have to show ID. They don't have ID," he said of the illegal immigrants. "They don't have documentation. … We don't know anything about their backgrounds."
TSA announced Friday that it will extend the mask mandate for all passengers because of COVID-19 until Sept. 13. The children in photos from the McAllen flight did not appear to wear masks.
A veteran FBI agent and official, Morgan later was chief of the Border Patrol in the final months of Barack Obama's presidency. 
President Donald Trump picked Morgan as acting director of Immigration and Customs Enforcement, but within two months tapped him to head Customs and Border Protection in July 2019 for the remainder of Trump's term.
Ken McIntyre contributed to this report.  
Have an opinion about this article? To sound off, please email [email protected] and we'll consider publishing your remarks in our regular "We Hear You" feature. Remember to include the url or headline of the article plus your name and town and/or state.