The president of a synagogue in Detroit has been stabbed to death outside her home.
Police say a motive for the killing of Samantha Woll is currently unknown.
Ms Woll, 40, was pronounced dead at the scene at around 6.30am on Saturday after she was found lying on the ground with multiple stab wounds.
"While at the scene, police officers observed a trail of blood leading officers to the victim's residence, which is where the crime is believed to have occurred," Corporal Dan Donakowski, of the Detroit Police Department, said.
Ms Woll had led the Isaac Agree Downtown Synagogue since 2022 and was a former aide to Democratic Representative Elissa Slotkin and campaign staffer for Attorney General Dana Nessel, the Detroit Free Press reported.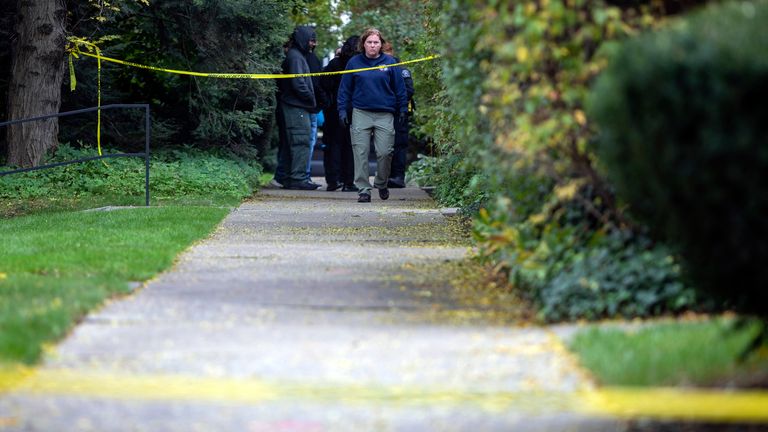 Detroit Police Chief James E White said the killing has left many unanswered questions. He asked the public to be patient as investigators examine all available evidence.
"Over the course of the last several hours, the Detroit Police Department has mobilised many of its resources and has been leveraging every law enforcement and community resource it has to help further the investigation," he said in a statement on Saturday night.
"An update on the investigation will be forthcoming tomorrow (Sunday)."
Read more from Sky News
Police arrest former baseball star in connection to father-in-law's murder
Father of freed teen hostage shares update on her condition
Michigan Governor Gretchen Whitmer said Ms Woll's death was "heartbreaking".
"She was a source of light, a beacon in her community who worked hard to make Michigan a better place," the governor said in a statement.
Attorney General Dana Nessel said she was "shocked, saddened and horrified".
"Sam was as kind a person as I've ever known," she wrote on X, formerly Twitter. "She was driven by her sincere love of her community, state and country. Sam truly used her faith and activism to create a better place for everyone."
The city's mayor, Mike Duggan, issued a statement saying he was "devastated" to learn of her death.
"Sam's loss has left a huge hole in the Detroit community," he said. "This entire city joins with her family and friends in mourning her tragic death."