This was only the second time President Biden has used the Oval Office for an address to the nation – a framing to emphasise a time of deep uncertainty.
It was just after 8pm when he spoke live on primetime television. From behind the resolute desk from where so many American presidents have sought to explain their decisions, to seek public support and to reassure a nation, the 80-year-old president spoke for just under 20 minutes.
Carefully scripted, with so many audiences to capture, he used familiar Biden phrases. The world is at "an inflection point" and "we are the United States of America… there is nothing beyond our capacity" – they are lines he's used many times before.
Israel-Gaza latest: US shoots down missiles 'potentially' heading to Israel
This was not a speech with an easy narrative. At a time when the West faces two huge geopolitical challenges, he sought to simplify.
He weaved together Russia's invasion of Ukraine with the Hamas attack on Israel.
"Hamas and Putin represent different threats but they share this in common…" the president said. "… they both want to completely annihilate a neighbouring democracy, completely annihilate it."
The conflicts and the histories are distinct. But the challenge, he argued, is not.
His wife, the first lady, sat off-camera to his left. She is said to be his closest counsel – part of a tight White House inner circle of advisers who he leans on at moments like this.
This was a 'my fellow Americans…' speech. They are words deployed only for the most challenging moments; usually reserved for times when the so-called leader of the free world needs to address people well beyond America.
Read more:
What is the two-state solution?
Who are the British victims of the Israel-Hamas war?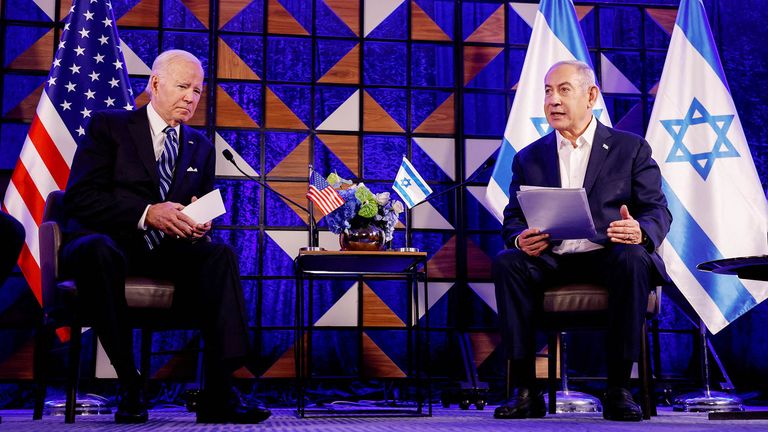 Americans anxious and even divided on Israel-Palestinian challenges
This time though, the primary audience beyond the autocue felt like it was the American people. He knows that support for Ukraine is waning. He knows that it feels, for some, like a faraway conflict. And he knows that the new challenge in the Middle East could increase their concerns.
If they are wavering on Ukraine, they are certainly anxious, even divided, on the more nuanced challenges of Israel and the Palestinians.
A poll, released overnight from CBS News, is interesting. It suggests that 70% of Democrat voters believe America should be sending humanitarian aid to Gaza. The number drops to 41% among Republicans.
When asked if the US should be supplying weapons to Israel, 47% of Democrats said yes. Some 57% of Republicans said yes.
The takeaway: it's roughly 50/50 for military support for Israel but more in favour of aid for Palestinians, which until now has not come. The poll does not reflect current American government policy.
Biden updates media on Air Force One

'America is a beacon to the world'
The speech felt like an attempt at persuasion to America's doubters; to those who think it no longer wields the influence, or holds the power.
"America is a beacon to the world. Still, still…" he said.
He spoke just hours after arriving back from Israel.
"Most movingly," he said, "I met with Israelis who personally lived through the horrific attack by Hamas on 7 October."
He had deep empathy for Israel's darkest day but on the substance of a Middle East in turmoil, a conflict that could spiral, two peoples so consumed with rage and pain, he had little in the way of a path ahead.
There was a repeat of the advice for Israel. "I caution the government of Israel not to be blinded by rage," he said.
And there was solidarity for Gazan civilians, under bombardment from weapons he is supplying.
"We can't ignore the humanity of innocent Palestinians who only want to live in peace and have an opportunity."
President wraps together support for Ukraine with challenges for Israelis and Palestinians
There was an awkwardness to his message. He wrapped together support for the occupied Ukraine with the more nuanced challenges for the Israelis and Palestinians.
Yet he sought to simplify it all because he needs public support and he needs funding from the politicians on Capitol Hill.
He's trying to mould American influence and control on two conflicts with huge global implications while at the same time maintaining support for them back home and with a presidential election not far off. Layered challenges.