Joe Biden said Hamas and Vladimir Putin both want to "annihilate" neighbouring democracies during a rare speech from the Oval Office.
The president addressed the nation after his whirlwind trip to the Middle East.
"If international aggression is allowed to continue, conflict and chaos could spread in other parts of the world," he said.
"Hamas and Putin represent different threats, but they share this in common. They both want to completely annihilate a neighbouring democracy."
Israel-Gaza latest: Israeli troops told they'll be inside Gaza 'soon'
He added that making sure Israel and Ukraine succeed is vital to America's national security and he would be making an urgent budget request for billions of dollars to Congress on Friday.
The proposal includes money for Ukraine, Israel, Taiwan, humanitarian aid and border management.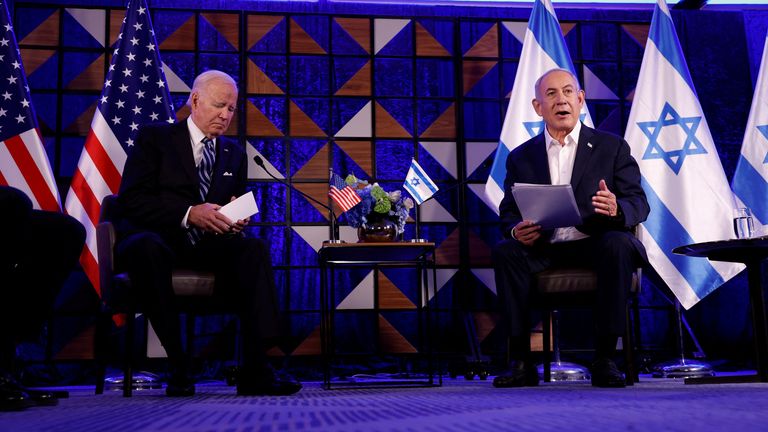 "It's a smart investment that's going to pay dividends for American security for generations," he said.
This is only the second time Mr Biden has given such an address, the first time was to celebrate the passing of the debt-ceiling bill in June.
He will be hoping that combining all these issues into one piece of legislation will create the necessary political support for congressional approval.
His speech comes the day after his high-stakes trip to Israel, where he showed solidarity with the country in its battle against Hamas and pushed for more humanitarian assistance to Palestinians in the Gaza Strip.
Delivering a speech at the Oval Office, US President Joe Biden says Hamas and Vladimir Putin

The president's came as Israel is poised to launch a ground offensive to root out Hamas from Gaza and tensions are at a fever pitch after a deadly blast at a Gaza hospital.
He said Israel was not responsible for the blast, as Hamas officials had claimed, but said: "We can't ignore the humanity of innocent Palestinians who only want to live in peace and have opportunity."
Mr Biden went on to make the case for US involvement to ordinary Americans, saying some are asking, "Why does it matter to America" that the US support the wars?
"I know these conflicts can seem far away," he said.
Read more:
What is the two-state solution for Israel and Palestinians?
Who are the British victims of the Israel-Hamas war?
But he went on to say America's adversaries are watching how both conflicts play out and could stir up trouble elsewhere in the world depending on the outcome.
Ahead of his address, Mr Biden spoke with Ukrainian President Volodymyr Zelenskyy to stress that the US remained committed to backing Kyiv, the White House said.
A senior White House official said the president continued to develop his remarks on Thursday after working with close aides throughout the week, including on his flight home from Israel.