Simone Biles has hinted she might be heading to Paris to take part in the upcoming 2024 Olympics.
The 26-year-old became the most decorated gymnast in history after sealing her sixth world all-around title in Belgium this month.
In an interview with NBC's The Today Show on Thursday, presenter Hoda Kotb asked what the odds would be of Biles being part of Team USA in France if she were to bet $100 on it right now.
"I think you'd be pretty lucky, Hoda," Biles said.
Biles became the first woman in history to land a Yurchenko double pike vault after performing the move at the championships in Antwerp on 7 October.
Yurchenko vaults involve landing on the horse or vaulting platform facing forwards and the double pike is regarded as the most difficult of the manoeuvres.
The vault will now be named Biles II after a different original jump was named after her in 2018.
She said her landing after the move "felt really good", adding: "I was excited I finally got it named after me".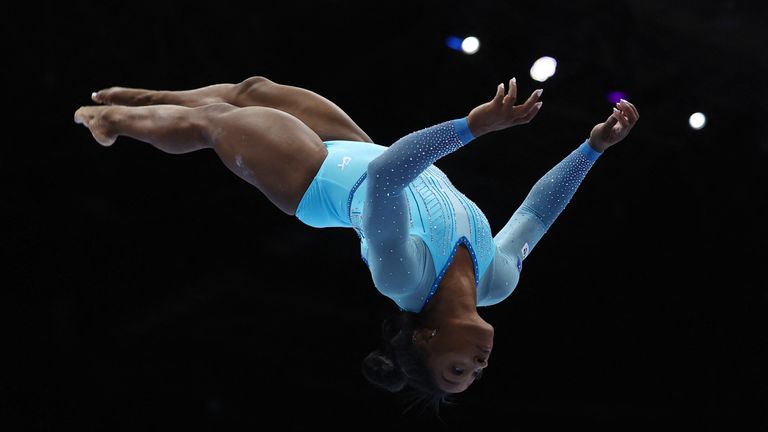 Following her wins earlier this month, Biles wrote on Instagram that she did it "for the little girl who fell in love with sport" in an emotional Instagram post.
Asked about her feelings towards gymnastics, Biles, who married American football player Jonathan Owens this year, said: "I think in gymnastics I still have to dig deep down and remember why I am doing it, and do it for the little girl like I said on the Instagram post.
"But it is a little bit different, like now it's like I'm a wife, I'm still a daughter, sister, and all of the things… and gymnastics is something that I get to come and have the privilege of doing.
"I don't feel like it's the end all, be all as before anymore. I get to go home to my husband, my dogs, to my house… so it feels really good."
Read more:
Gymnastics Ireland 'deeply sorry' after young black girl denied medal
Biles' appearance at the 2023 World Artistic Gymnastics Championships marked her return to major international competition after she took a two-year break to focus on her mental health.
The American gymnast led her team to a record seventh straight title, with her golden comeback continuing in record-breaking style as she finished with a top score of 58.399 the day before, 1.633 points above Brazilian silver medallist Rebeca Andrade with compatriot Shilese Jones rounding out the top three.
The medal was Biles' 34th at an Olympics or World Championship – the most achieved by a male or female gymnast in the history of the sport after surpassing the 33 achieved by Belarusian Vitaly Scherbo.