A US representative has said she received "credible death threats" after voting against fellow Republican Jim Jordan to be the new House Speaker.
Mariannette Miller-Meeks voted for Mr Jordan in the first vote on Tuesday but then changed to rival Kay Granger on Wednesday.
Since then, the Iowa politician has received a "barrage of threatening calls" as well as multiple death threats, she said.
It was not immediately clear who was responsible – and the authorities have been notified.
"One thing I cannot stomach, or support, is a bully," she said.
"I did not stand for bullies before I voted for chairwoman Granger and when I voted for speaker designee Jordan, and I will not bend to bullies now."
Mr Jordan said on X (formerly Twitter): "We condemn all threats against our colleagues and it is imperative that we come together. Stop. It's abhorrent."
Mr Jordan was formally nominated by a majority of his party last week – but so far, he has been unable to attract the support of the 217 Republicans required.
Read more:
Joran van der Sloot admits he killed US teen in 2005
New York's mayor uses audio deepfakes to call residents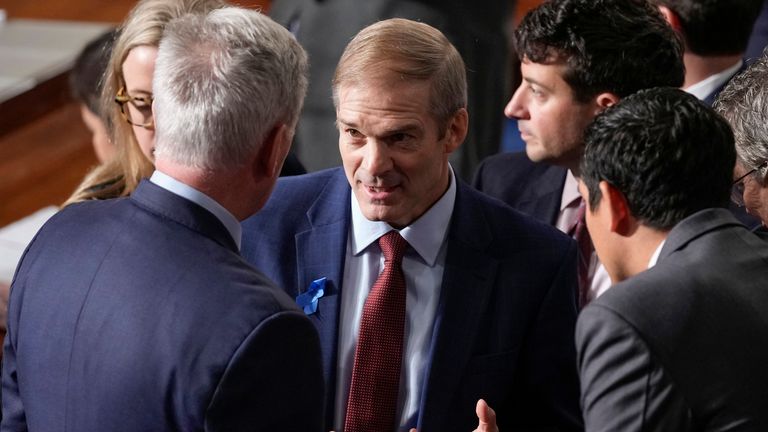 On Wednesday, he was opposed by 22 Republicans, two more than on Tuesday.
A third vote is expected to take place on Thursday.
It means the House is still without formal leadership more than two weeks after Kevin McCarthy was removed from office after a historic challenge to his leadership from his own party.
Mr Jordan, a founding member of the right-wing House Freedom Caucus, has struggled to win over moderates.
Others have expressed concern about his ability to unite the party.
Some have spoken about the alleged bullying tactics of his supporters, although Mr Jordan himself has been courteous and kind, they said.
"The last thing you want to do is try to intimidate or pressure me, because then I close out entirely," Representative Mario Diaz-Balart, a Republican who has refused to support Mr Jordan, told reporters earlier this week.