Police in Georgia have shot and killed a man who spent 16 years in prison on a wrongful conviction.
Leonard Allen Cure, 53, died on Monday after a police deputy pulled him over as he drove along Interstate 95 near the Georgia-Florida line, authorities said.
Mr Cure was previously sentenced to life in prison in 2003 for the armed robbery of a drug store in Florida. He had prior convictions for robbery and other crimes.
He was released in April 2020 after a judge ruled that Mr Cure had solid alibis that were previously disregarded, and there was no physical evidence or strong witness testimony to put him at the scene.
The Georgia Bureau of Investigation (GBI) said Mr Cure was killed at around 7.30am on Monday after he got out of his car at the deputy's request and complied with the officer's commands, until learning that he was under arrest.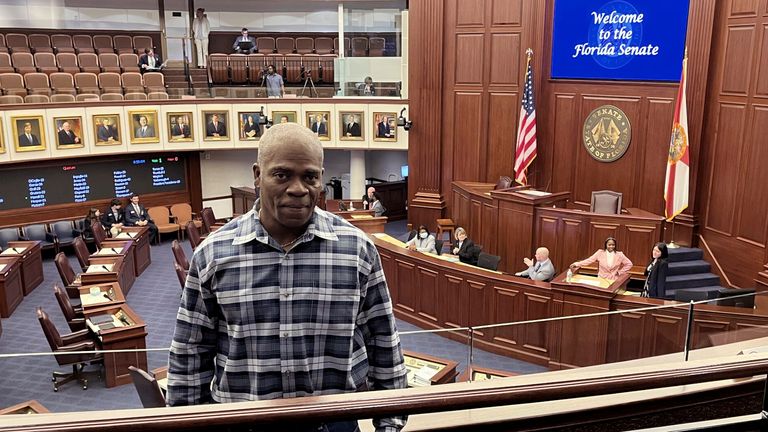 The deputy tasered Mr Cure, who then assaulted the deputy, the GBI added, before the officer used the Taser again, along with a baton.
The deputy then pulled out his gun and shot Mr Cure as he "still did not comply", the GBI said.
Emergency services treated Mr Cure, but he later died.
The bureau did not say what prompted the deputy to pull over Mr Cure's vehicle.
A non-profit group, The Innocence Project of Florida, represented Mr Cure in his exoneration case.
Its executive director, Seth Miller, said after speaking to the Cure family: "I can only imagine what it's like to know your son is innocent and watch him be sentenced to life in prison, to be exonerated and… then be told that once he's been freed, he's been shot dead."
Read more from Sky News:
Boy, 6, dies after being stabbed 26 times in Illinois
Driver gets $1.4m speeding fine after going 35mph over limit
Earlier this year Mr Cure, who lived in a suburb of Atlanta, was given $817,000 in compensation for his wrongful conviction.
Broward State Attorney Harold F. Pryor, who described the 53-year-old as "smart, funny and kind", said at the time: "No amount of money will get those years back for Mr Cure or give him peace but it is a small gesture that recognises Mr Cure was wronged and that we, in the State of Florida and in the justice system, will help him and compensate him.
"After he was freed and exonerated by our office, he visited prosecutors at our office and participated in training to help our staff do their jobs in the fairest and most thorough way possible."
Broward assistant state attorney Arielle Demby Berger added: "I've gotten to know Mr Cure, 'Lenny', these past years and he has encouraged our work as well as helped us train future generations of prosecutors.
"Lenny has shared with me that his dream was one day to work in a cubicle instead of doing manual labour. Now, Lenny can go to college and surpass his dreams."
The GBI says it is conducting an independent investigation into the shooting.