A Mississippi police officer is out of a job after taking part in the arrest and jailing of a 10-year-old boy who urinated in public earlier this month, the Associated Press reported.
Senatobia Police Chief Richard Chandler said in a Facebook post Monday that the officer is "no longer employed" and other officers will be "disciplined," the AP noted. The chief didn't say whether the officer in question was fired or quit and didn't specify what type of discipline the other officers would face, the outlet added.
The AP said Chandler didn't immediately reply to a Tuesday voicemail seeking further information.
What's the background?
Latonya Eason told WHBQ-TV that on Aug. 10 she stopped by a Senatobia attorney's office for legal advice — and while she was inside the office, an officer notified her that he caught her 10-year-old son, Quantavious Eason, urinating behind her car.
"I was like, 'Son, why did you do that?' He said, 'Mom, my sister said they don't have a bathroom there.' I was like, 'You knew better, you should have come and asked me if they had a restroom,'" Eason recounted to the station.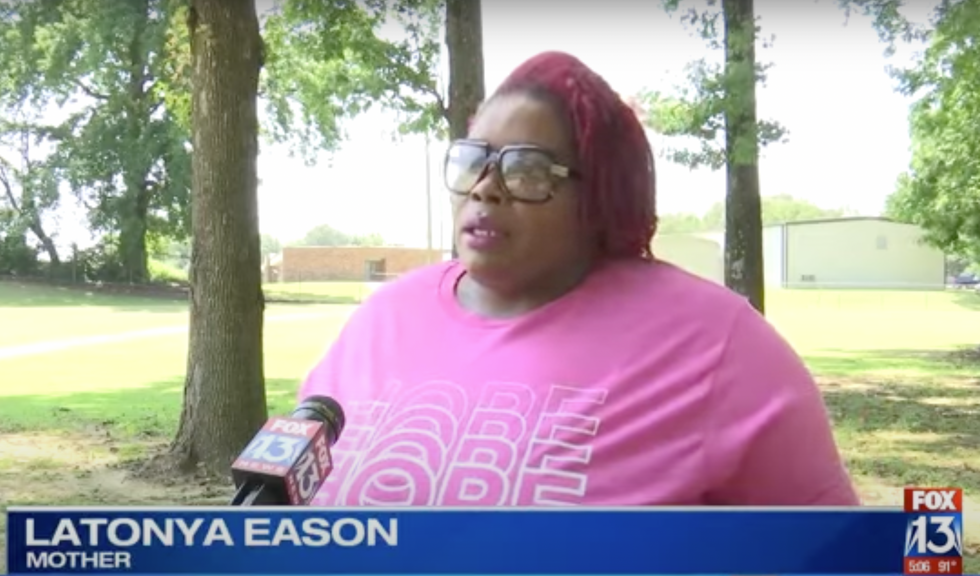 Image source: YouTube screenshot
She added to WHBQ that the officer told her she "handled it like a mom," that Quantavious "can get back in the car," and that he'd simply offer a warning.
But Eason added to the station that several other officers showed up moments later, and a lieutenant on the scene said her son had to go to jail.
"No, him urinating in the parking lot was not right, but at the same time, I handled it like a parent, and for one officer to tell my baby to get back in the car, it was okay, and to have the other pull up and take him to jail. Like, no," Eason told WHBQ. "I'm just speechless right now. Why would you arrest a 10-year-old kid?"
'I started crying a little bit'
Quantavious told WHBQ, "I started crying a little bit. They took me down there and got me out of the truck. I didn't know what was happening. I get scared and start shaking and thinking I am going to jail."
WHBQ also reported that Quantavious said he was held in a jail cell.
Senatobia police on Friday afternoon didn't immediately respond to TheBlaze's request for confirmation regarding whether Quantavious was held in a jail cell.
While Chandler's Aug. 15 statement on the matter mentions nothing about Quantavious being held in a jail cell, it does note that he was not handcuffed and that transporting him to the police station was an "error in judgment."
Eason also told WHBQ that police charged her son with child in need of services and then released Quantavious to her.
"That could really traumatize my baby," Eason told WHBQ. "My baby could get to the point where he won't want to have an encounter with the police, period."
WHBQ added that Quantavious received a youth court referral as a result of the incident.
Here's the station's video report from the original story about the incident:
10-year-old boy detained by police after public urination outside of lawyer's officeyoutu.be
Anything else?
WREG-TV said the chief in his Monday Facebook message also noted the arrest of Latonya Eason, saying she came to the police department the day after her son's arrest to talk to an officer about a separate incident — and since she had a warrant through Justice Court, the Tate County Sheriff's Office took her into custody.
Like Blaze News? Bypass the censors, sign up for our newsletters, and get stories like this direct to your inbox. Sign up here!