There is nothing natural or free-market about the growth of electric vehicles. The Biden administration has used a mix of subsidies, mandates, taxpayer-backed loans, onerous regulations on competing vehicles, and monopolization of the public square to remake the car market in America. Officials are able to keep auto companies afloat on the losing proposition of electric cars while making normal cars prohibitively expensive for Americans.
Red-state governors have an obligation to block all participation in the Green New Deal the same way they did last decade by refusing to participate in Obamacare's Medicaid expansion. Otherwise, they will be complicit in boxing out all but wealthy elites from being able to enjoy the great symbol and mechanism of American freedom.
In a free market, the electric vehicle as a commercial product would be insolvent. Between the cost, safety issues, supply chain problems, and recharging infrastructure challenges, the idea of widespread EV use would never take root naturally. Indeed, this is why Ford is projected to lose $4.5 billion on EVs this year, after already accruing $2.1 billion in losses in 2022, which adds up to $34,000 per vehicle.
Normally, such a loss would severely strain a large company and bankrupt mid-sized companies. But Ford actually beat earnings expectations for Q2 of this year and posted revenue of $45 billion and earnings of 72 cents a share, blowing out expectations of 54 cents a share. Clearly, the fact that our government is essentially floating the EV scam with taxpayer funding allows Ford to turn the Green New Deal into a gain rather than a loss, because now it can utilize the government-induced shortage of normal vehicles desired by consumers and raise prices.
Consider the following factors driving up costs in the auto industry, aside from the general inflation affecting every major product:
1) After steadily declining for several decades, U.S. domestic auto production has been the lowest on record for the past two years. The relentless EPA attacks on cars paved the way for the EV scam.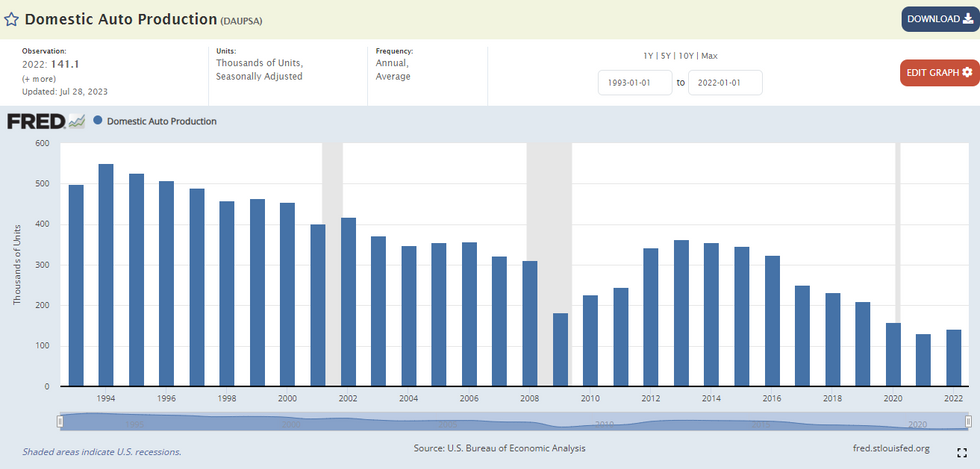 After recovering from the Great Recession, domestic auto production averaged 346,000 units per year from 2012 through 2016. Now it's down 60% to 141,000.
2) The EPA announced a rule on multi-pollutant emissions standards for model years 2027 and onward and light-duty and medium-duty vehicles. It's essentially an EV mandate, which depresses the gas-powered car market for the remaining years, further driving up prices.
3) Companies like Ford don't have to be competitive in the gas-powered market because government is giving them $9.2 billion in low-cost loans (at a time when the rest of us are paying high interest on loans) for EV plants. So government is essentially the new customer, while the companies can turn around and gouge consumers.
4) Consumers get a $7,500 credit for purchasing an EV, which again allows companies like Ford to keep this insolvent charade "solvent enough" just to keep it afloat and box out the gas-powered market.
5) Government is working with the auto industry to fund all the infrastructure for EVs – from manufacturing to charging – so that the companies can continue selling EVs as a loss leader without going under. Normally, the companies and the economy could not even get the product off the ground because of the lack of fast chargers. But General Motors, Honda, Hyundai, Kia, BMW Group, Mercedes-Benz Group, and Stellantis N.V. are all colluding together to build 30,000 new charging stations. How? With billions in subsidies from the "Inflation Reduction Act" that are crushing consumers with … debt-driven inflation!
You've got to love American capitalism circa 2023 – venture socialism at its best. Except that printed money being used to prop up an insolvent industry is making everything expensive, but particularly cars. Here's the state of play for young families looking to purchase a vehicle.
According to Edmunds, the average transaction price for new cars in May was $47,892.
The percentage of vehicles sold above $70,000 has risen from 3% to 10% over the past five years.
At the same time, there are fewer affordable options because new cars under $30,000 make up just 8% of the market's supply, down from 38% pre-pandemic.
What about credit? Car loans have now skyrocketed, with the average monthly payment remaining well over $700, up from $550 pre-pandemic. Can't afford a new car? Sure, you can get a used one for almost $30,000, nearly 40% higher than when Biden took office, on top of a higher interest rate.
People can't afford car loans, and for the first time in history, this year, the rejection rate of auto loans exceeded the application rate. According to the New York Fed, almost one-third of applicants expected their loans to be rejected.
Even if you can afford a car, the cost of maintaining it is more expensive than ever. Car insurance rates in the U.S. increased 17% over the past year, according to the Bureau of Labor Statistics.
Gas prices are averaging $3.76, up over 50% since Biden took office, and set to skyrocket based on commodity prices and the depletion of the Strategic Petroleum Reserves.
In other words, the government has you exactly where it wants you. Officials really don't want you to own a car at all. They want you dependent on 15-minute cities without the ability to live the American dream and travel the country freely. But this is only made possible by keeping the notion of "EV transitioning" as sustainable as gender transitioning, before it fully collapses. Were it to collapse now, the people are not yet on board with a European-style carless society, and the market would therefore revert back to gas-powered cars.
This is why it is so important for Republican governors to stop groveling for federal subsidies for EV projects and certainly not to fund them through state programs. They must treat the EV Green New Deal projects – from manufacturing of EVs to recharging stations – as they did Medicaid expansion last decade: just say no. It is as antithetical to free-market values as one could imagine.
None of this would get off the ground without the massive government tailwinds provided to EVs and headwinds against normal cars. Even so, EVs are not really sustainable, just enough to destroy the gas-powered market and leave all but the elites with zero options for cars.