A woman who was arrested seven times for DUI self-surrendered after responding to a news story on Facebook about police requesting help in locating her, KLAS reported Friday.
Marion Reyes, 36, surrendered herself to the Las Vegas Metro police at the Clark County Detention Center Friday afternoon, according to a source cited by KLAS.
A Facebook account bearing Reyes's name and image responded to the outlet's news story about police searching for her. The story was titled "Las Vegas police ask for help finding woman with 7 DUIs who cut off GPS bracelet."
"I never cut it off!!! An officer cut it off when I turned myself in. They continued to release me," the post claimed.
Responses to the curious post ranged from chiding to chuckles.
A separate post in the same thread attempted to go into more detail. The rambling post, however, was difficult to decipher, which Facebook users were quick to point out.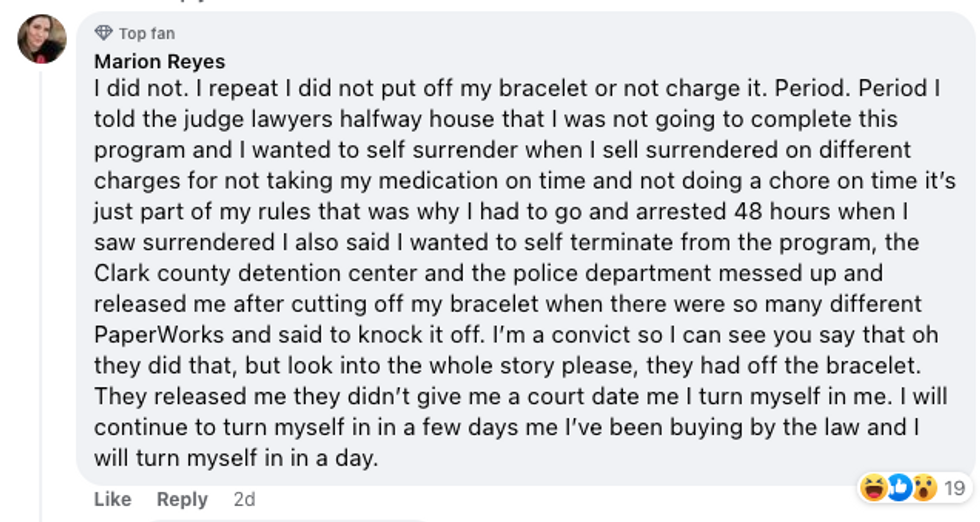 "I tried reading this 6 times and still can't make out your gibberish. Get em' LVMPD Traffic!" said one user.
LVMPD responded with a helpful suggestion.
"Then why not turn yourself in now? Let's get this sorted out tonight."
A judge issued a bench warrant for Reyes's arrest after she failed to show for a hearing as part of a felony DUI treatment program, KLAS also reported. She had previously been ordered to self-surrender for other violations of her treatment program. When she did so, she served two days in jail.
Reyes was reportedly arrested on DUI charges at least seven times since 2007.
Thursday, the Las Vegas Metropolitan Police Department's Traffic Bureau posted on social media, asking for help locating Reyes. They said she had cut off her location monitor, and asked the public to send any information they had on her whereabouts.
KLAS reported on the story the same day and shared the story to their Facebook page. Reyes is marked as a "top fan" of KLAS on Facebook.
LVMPD thanked the public for their assistance, saying in a social media post Friday that Reyes had turned herself in that afternoon after speaking with an intervention officer Thursday night.
Watch KLAS's coverage below of seven-time DUI arrestee Marion Reyes self-surrendering to police after commenting on Facebook about her own case.
Like Blaze News? Bypass the censors, sign up for our newsletters, and get stories like this direct to your inbox. Sign up here!