A shocking video shows the moment a thief in New York City hurled a chair at the face of a diner at a pizzeria in Hell's Kitchen.
New York City police are in search of a man who brutally bashed a pizzeria diner in the face with a chair. The barbaric act of violence was caught on a security camera video.
Surveillance video shows a 66-year-old man dining at a table outside the Amore Pizza Cafe on West 58th Street near Ninth Avenue around 10:30 p.m. on Sept. 9. Out of the blue, a man calmly strolls toward the diner, picks up a nearby chair, and launches it at the head of the man.
After being walloped in the face with a chair, the diner lost control of his cell phone, and it flew across the sidewalk.
The viral video shows the suspect quickly snatching the cell phone off the ground and fleeing the crime scene. Police said the assailant took off on foot eastbound across W. 58th St.
The victim suffered a broken forearm bone, and needed medical treatment at the Mount Sinai medical center after the completely unprovoked and seemingly random attack.
The New York Post reported, "Cops describe the suspect as a man with a dark complexion, last seen wearing a blue shirt and black and white checkered sneakers."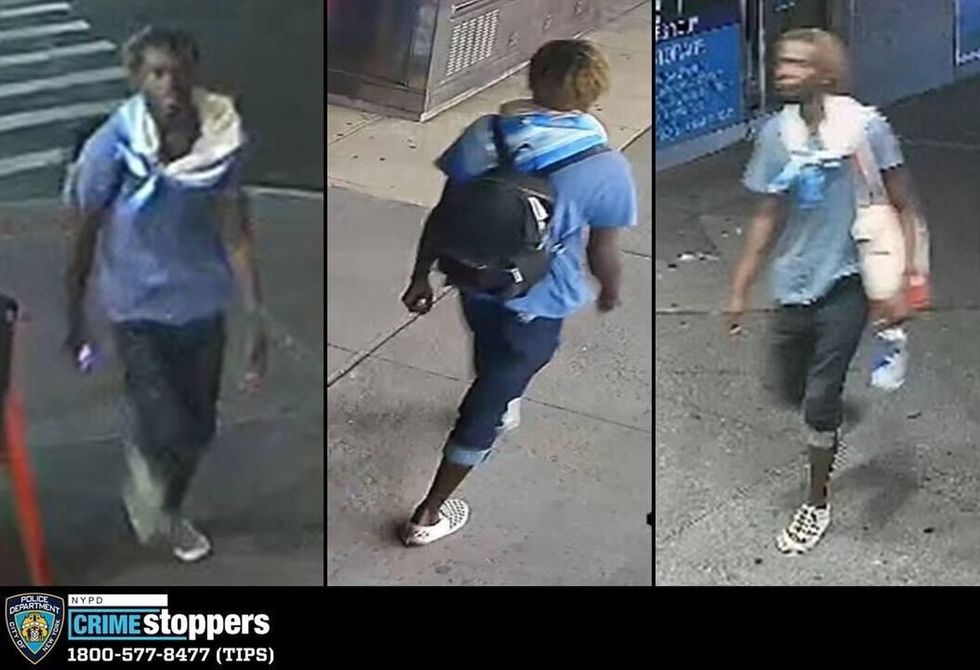 NYPD Crime Stoppers
Police are still searching for the suspect in the savage attack.
NYPD asked anyone with information regarding the violent attack to call Crime Stoppers at (800) 577-TIPS.
The latest NYPD crime statistics show that robberies have spiked 38% compared to 2021. Burglaries have increased by more than 32% versus the same time last year, grand larceny has jumped by over 44%, and grand larceny auto soared by 38%.
(WARNING: Graphic video)