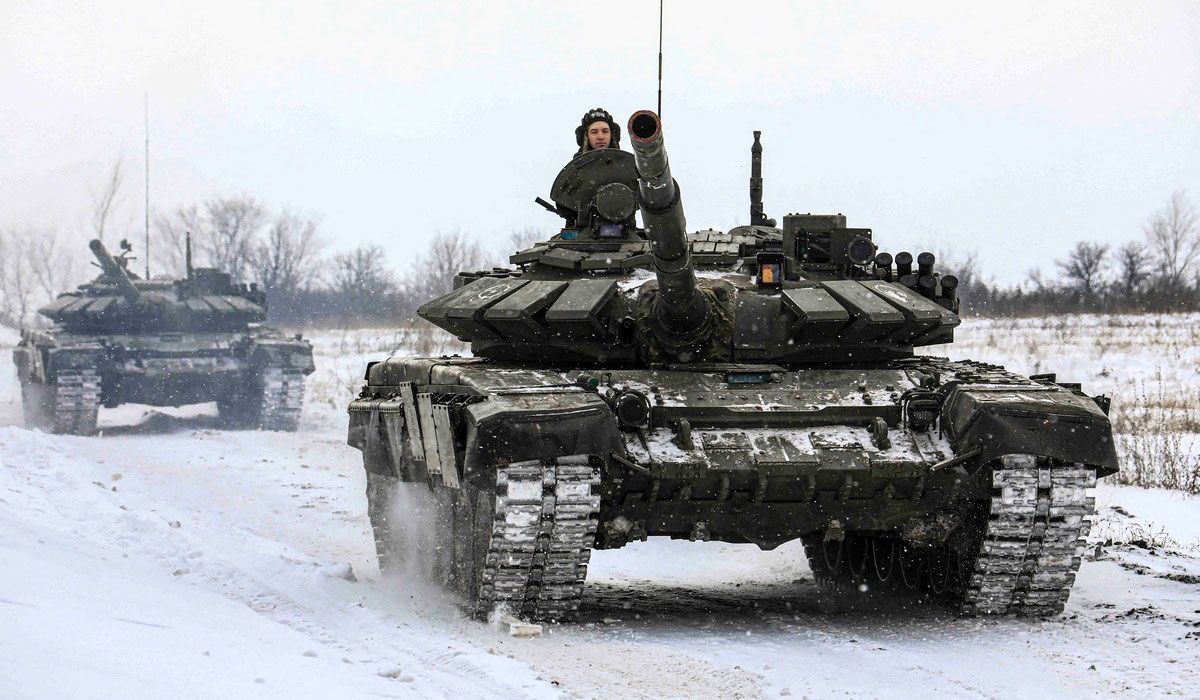 Russia's buildup of troops on Ukraine's border continued on Wednesday, according to Estonian Foreign Intelligence Service director Mikk Marran, who made the comments in an interview with Reuters. He said Estonia was aware of ten additional Russian battle groups on their way to the border with Ukraine, where about 100 such groups already are amassed.
The current count, without the ten new battle groups, Marran told Reuters, means that there are about 170,000 Russian troops deployed to the border with Ukraine and in Belarus.
That's greater than the 150,000 Russian soldiers that President Biden said were at Ukraine's border and in Belarus during a White House address on the crisis Tuesday evening.
Marran's comments are significant because he predicted that Russia would launch a "limited" attack on Ukraine, involving missile strikes and seizing parts of the country's territory. He said an escalation of violence in Ukraine's breakaway eastern regions, which are held by Russia-backed forces, also is "highly likely."
The Estonian government's warnings came as Moscow attempted Wednesday to downplay perceptions in the West that it intended to move on Ukraine.
Russian state-run media promoted comments by Russian foreign ministry spokesperson Maria Zakharova mocking predictions by the U.S. and others that Russia would invade today, on February 16. "Please ask those mass media in the U.S. and UK that promote disinformation," she said, naming a number of Western outlets, "to publish our invasion schedule for the next year. I'd like to plan my vacation."
Earlier on Wednesday, the Russian government also publicized a video that it claimed showed a military withdrawal from Crimea. The video showed a train apparently carrying military equipment across a bridge.
But the Estonian assessment lines up with the Biden administration's view. Secretary of state Antony Blinken said during an ABC interview this morning that Washington is seeing "no meaningful pullback. On the contrary, we continue to see forces, especially forces that would be in the vanguard of any renewed aggression against Ukraine, continuing to be at the border, to mass at the border."
Responding to the Russian-government video, State Department spokesman Ned Price told reporters at today's daily briefing that "it would need to be verified." He added that "the Russians have engaged in a great deal of propaganda and disinformation on this very question."
Marran's predictions aren't only worrying for what they say about the potential for a devastating war in Ukraine. He also explained why the Baltic countries may face renewed Russian attention next.
"If Russia is successful in Ukraine, it would encourage it to increase pressure on the Baltics in the coming years. The threat of war has become main policy tool for Putin." He also told Reuters that the end of Russian military exercises in Belarus may result in an open-ended Russian military presence in the country. "That would reduce preparation time for an attack against the Baltics."
Unlike Ukraine, the Baltic states — Estonia, Lithuania, and Latvia — are all NATO members.