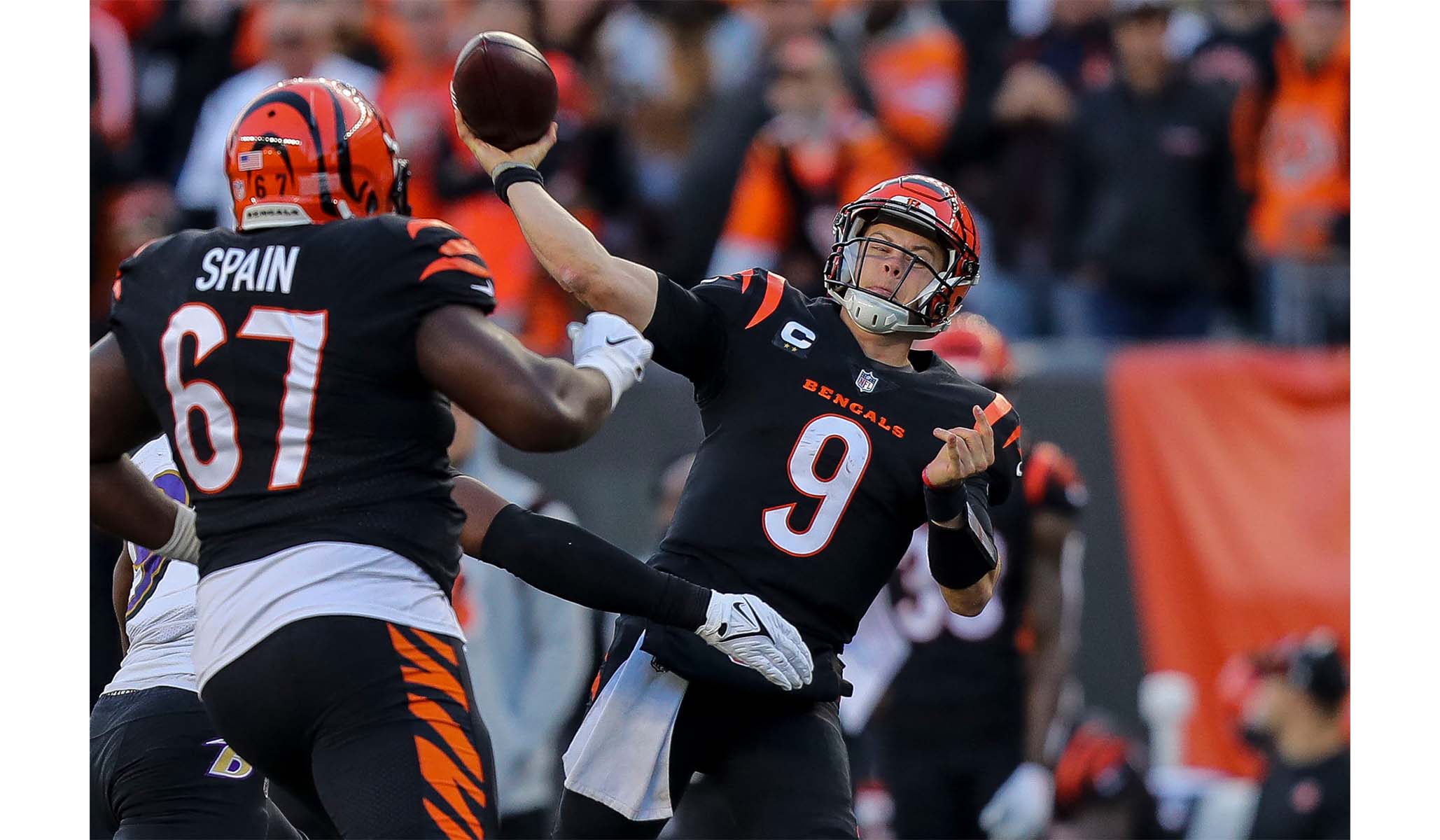 Late last year, when asked how the Cincinnati Bengals roster had managed to stay mostly healthy, team quarterback Joe Burrow offered an interesting explanation. "Fortunately, there's not a ton to do in Cincinnati," Burrow, 25, said. "Nobody is going out to clubs and bars and getting Covid every weekend. But we've been healthy."
As a Cincinnati native, I took slight offense to this, though I'm not sure how seriously the remark was intended. It had at least gotten me to pay attention to something related to the Bengals, which, for reasons I will explain below, I typically don't. This was what helped me begin to realize that, wait a minute . . . the Bengals were . . . good?
Even someone as tuned out of the NFL as I am couldn't help but notice that the Bengals managed not one but two down-to-the wire playoff wins this season (after winning the Wild Card game against the Las Vegas Raiders), first against the Tennessee Titans and then against the Kansas City Chiefs. The latter victory earned the team a place in the Super Bowl. One of the many nicknames attached to the Bengals over the years is the "Cardiac Cats," a reference to how so many games they played were decided in a heart-attack-inducing manner in the final seconds. What the nickname leaves out, though, is that usually, the Bengals lose such games. But two in a row, leading to the Bengals . . . in the Super Bowl . . .? What is going on here?
The Bengals that have been playing this season seem almost like a completely different team from the one I grew up not caring about. The Bengals last appeared in a Super Bowl in 1989, four years before I was born, and last won a playoff game in 1990. In the years since, the franchise has endured at best a steady, frustrating mediocrity, usually failing to achieve either the success that inspires wide enthusiasm or the abject failure that inculcates a kind of stoic, soldierly passion evidenced by, for example, the Cleveland Browns holding a "parade" to mark a winless season in 2017. There were many playoff attempts in the 2000s, but all came to naught. When the Bengals did seem good, fans allowed themselves just enough hope for the inevitable loss to seem all the more devastating.
All of this was enough to make me, for whatever reason not dispositionally inclined to care much about football and the NFL in the first place, totally apathetic about not just my team, but also the sport as a whole. Last year's was the first Super Bowl I had watched live since 2006. I've only ever been to one NFL game, and it was in the pre-season. And though I was glad, in a sort of vague, civic sense, that we had a team and that people were fans, I paid little attention over the years as friends and family grew impassioned over rivalries with the Browns or the Steelers and other such things. To be clear, by saying all of this, I don't consider myself in any way "above" this stuff; it is, if anything, a defect of my own character that I proved unable to care much about the Bengals.
Which has made this year truly bewildering. For the genuine fans, the honorable long-haulers who have stuck it through the good times and the bad, it must be exhilarating. But friends and family back in the Cincinnati area inform me that the mere presence of the Bengals in the Super Bowl has led to region-wide transformations. Schools are already planning the next day off regardless of the outcome. Bengals merchandise, so long easily and cheaply available, has flown off store shelves; even at thrift stores, it is many times more expensive than usual. Just about everyone seems more culturally invested in this game than in just about any sporting event that has involved Cincinnati in living memory. And it remains just bizarre to me even to think about "Bengals" and "Super Bowl" in the same sentence, at least one not also including the word "aren't." I literally have no frame of reference for it.
Am I jumping on the bandwagon? Yes, at least to the extent I am able. And I don't think that the more consistent fans of the team will begrudge me this; they'll just be happy for me to be along for the ride with them as I watch tonight's game, despite an irrational and hereditary trait that, just by watching, I am destined to change the outcome of any sporting event to what I don't want to happen. There is indeed a risk that all of us, long-haulers and band-wagoners, those with memories of the 1989 game and those who were born after it, will end up witnessing another loss, that tonight will merely replay, to an extreme degree, the all-too-familiar Bengals pattern of hopes being raised and then dashed.
Yes, that could happen. Or, gosh darn it, the Cincinnati Bengals could actually win a Super Bowl. Who knows? Whatever the result, I am already heartened by the way the city has rallied around its team, and how decades of expectations and perceptions have been challenged. I have also begun to see what people find so enjoyable about these games. And if the Bengals do get that Super Bowl "W," well . . . I'm sure Joe Burrow will finally have something to do in Cincinnati if there's a victory parade.